So what is the best tile cleaner? It's not what your mother told you!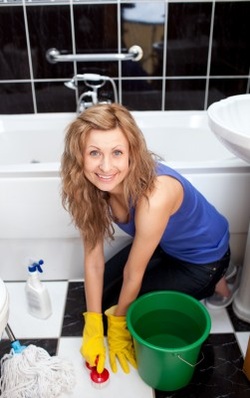 We've all seen nasty green grout lines and funky sticky tiles somewhere, and always promise ourselves it won't happen to us. So what's the way to keep the green monster at bay? It's actually not the way your mom probably taught you!

Many of us grew up being told bleach was the cure all or kill all cleaner. While this might be true in some cases you should think twice or maybe even three times before using it on your expensive tile. While some of us associate the smell of bleach with cleanliness others do so with nausea, and with good reason. Bleach is very efficient at killing germs and bacteria however it is toxic. It can cause skin burns, dizziness, headaches, and has even been linked to cancer. If you have pets and small children it's an added danger you don't want to worry about. Many people believe because bleach makes things white, they should use it as a tile grout cleaner. This is a mistake. While bleach will make your grout whiter initially, it will actually degrade the grout due to its high acidity and possibly even turn your grout yellow (almost as bad as green). Contrary to popular belief bleach is also not an effective tile cleaner, whether that be ceramic tiles or other types of tiles, it's also just too harsh.

So what should you use? For both a tile a cleaner and tile grouter cleaner we suggest using a less toxic approach. As a tile cleaner we like to use a mixture of vinegar and water when mopping the floor. Simply add one cup of white vinegar to one gallon of water and you're ready to mop. Vinegar is not only a great cleaning agent but its non-toxic, odor eliminating, and you probably already have some in your house. But what about the smell of the vinegar you might ask? It can be pretty potent we agree, however for those who dislike the smell not to worry as it disappears as soon as it dries. When it comes to a tile grout cleaner we like to use another product that can be found in your house, peroxide. Just add equal amounts to water and peroxide, a 50/50 mix, grab an old toothbrush and your ready to slay that hopefully not so green monster. You will be pleasantly surprised with the results we guarantee.

A few extra simple tips for helping you to keep your tiles looking great are:

1) Regular cleaning is the key to preventing buildups, simply vacuum or sweep your tiles followed by a good mopping and you'll save yourself time in the future.

2) If you run out of vinegar, another good tile floor cleaner is warm water and squirt or two of dish soap.

3) NEVER use steel wool or other highly abrasive brushes on tiles as they will easily scratch them.

4) Spot clean spills and accidents as they happen don't save them for later, this will help prevent staining.


---